Access Your Smartphone Conveniently & Safely While You're Driving!
Need a safe and ingenious way to use your phone in the car?
Get the ever-reliable Rear-View Mirror Phone Mount now, which is ideal for hands-free calls and navigation!
This phone mount clips onto your rearview mirror, facing your upper right side vision, so you can keep it close while you're driving.
This car accessory is especially invaluable if you find yourself straining your eyes, trying to read things off your phone from behind the wheel when it's too far away from your line of sight.
It also has a 360-degree swivel feature, so you can look at your phone in whatever direction you'd like!
View maps and answer calls conveniently and safely while you're driving with the astounding Rear-View Mirror Phone Mount!
High Quality & Durable
A sturdy, premium-quality phone mount for your car.
Product Specifications:
Materials: ABS plastic
Applicable Models: Phones with 3-5.5 inch screens
Special Features: 360 rotation function
Package Includes:
1x Rear-View Mirror Phone Mount
It's easy to install and unmount!
Navigate the road efficiently while viewing messages, music, and phone calls with the Rear-View Mirror Phone Mount!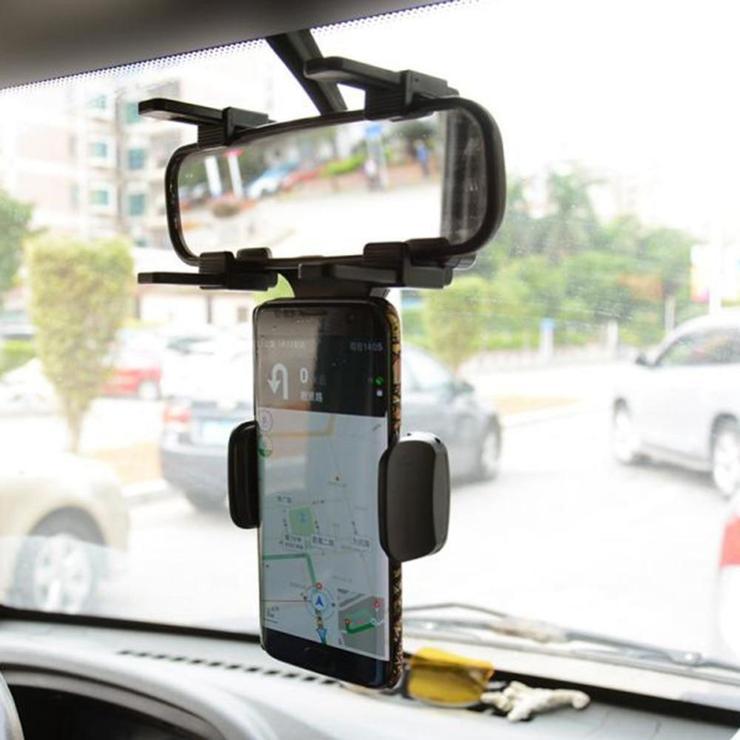 360° Swivel Adjustment
This phone mount attaches securely to your car so it won't fall off, even over rough roads.
It automatically clamps around your phone to ensure that it's safely in place.
It offers an easy way to position your phone, so you can see the screen without blocking your view of the road.
Using only one hand, you can easily install or unmount it from your rearview mirror.Plus, whatever device you're using, this accessory will work no matter how thick your phone or phone case is.Get you a car phone mount that does it all and more with the Rear-View Mirror Phone Mount!